Stephen P. Smithers Silversmith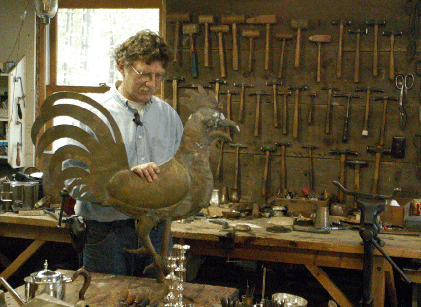 Since 1975, Silversmith Stephen Smithers has been researching and refining the classic art of silversmithing as practiced by master silversmiths throughout history. Through the process of performing restorations on early metal objects, Steve has gained an intuitive sense of the original working methods used, which has influenced the design, construction, and craftsmanship of his own pieces.
His first experiences with metalworking were as a machinist and plater, from which he gained knowledge about modern production which encourages quantity and speed and also a detachment from the work being performed. Once the opportunity arose to work with pieces made prior to the industrial revolution, Steve began to acquire an understanding of the nature of work performed by the crafts people of yesterday and today. The essence of that process is pride of workmanship and the care taken in the making of quality hand-wrought creations.
The small workshop built by Steve and several friends evokes the feeling of an earlier time. The pieces produced in his shop are unique in design, influenced by both the classic forms of many of the antique pieces he has restored through the years, and by his experiences while learning the nearly lost art of silversmithing. Steve is assisted in his work by his son Christopher Smithers, who learned about silversmithing at the Smithers workshop.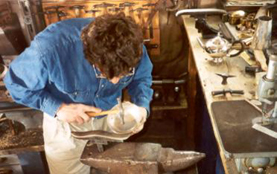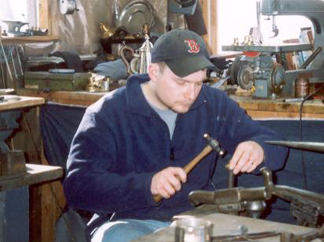 Above Left: Steve Smithers raises the foot for a Revere Bowl
Above Right: Christopher Smithers planishes a bobeche for a brass sconce
SHOWS AND EXHIBITIONS:
Designer Craftsmen of Philadelphia and New England, 1995-2010

Celebration of American Craftmanship, Wilton, CT 1992-95, 2003-2009

Craft Festival at Winterthur, Winterthur Museum, Wilmington DE 2002

Distinguished Group of American Artists, Downington, PA 1996

Early American Life's Festival of Traditional American Arts, Rye Brook, NY 1995

Great River Exhibit, Wadsworth Atheneum, Hartford, CT 1986

CONSULTING, PRESENTATIONS, & DEMONSTRATIONS:

Winterthur Museum, Wilmington DE, silversmith demonstration, Silver Conference, "Silversmiths to the Nation" 2008

Worcester Art Museum, Worcester, MA Presentation for Winterthur's "An American Vision" 2008

Metropolitan Museum of Art, NY, NY Workshop for Winterthur's"Silversmiths to The Nation" 2008

Paul Revere House, Boston MA Silversmith demonstration 2006-2010

Colonial Silversmith Shop at Historic Deerfield, MA 2000-2010

Addison Gallery, Phillips Academy, Andover, MA "An Afternoon with Silversmith Stephen Smithers" 2005

Historic Deerfield Forums, Deerfield, MA, 1988, 1994, 2004, 2010

Sterling and Francine Clark Art Institute, Williamstown, MA, consultant to curator, 1991-1997, 2000,2002

Winterthur Museum, Wilmington DE, demonstration/lecture :Silver Connoisseurship Seminar 1999

Eastfield Village, East Nassau, NY, silversmithing workshop, 1996, 1998, 2000, 2001, 2004, 2008

Sargent House Museum, Gloucester MA, Discussion and Demonstration of Silversmithing, 2002.

Munson Williams Proctor Art Institute, Utica NY, repousse demonstration, 2001
---
Home Page Tableware Lighting Upcoming Events Media Presentation Pieces and Custom Commissions Restoration