It has been an eventful year here at the Apple Valley shop, with some memorable projects and commissions. My son Chris and I have had the opportunity, thanks to several of our customers who collect our work, to make two full size sterling silver candle chandeliers. Though we have made quite a few silver wall sconces, these are the first chandeliers of silver in over 30 years of making hand hammered brass and bronze lighting.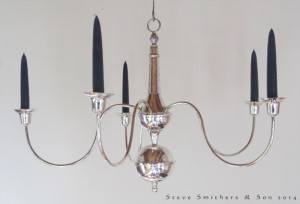 Another highlight of the year, and indeed of my long career, was being asked to make a new silver plaque for the Massachusetts State House cornerstone time capsule.  The time capsule was originally placed in the cornerstone in 1795  by Paul Revere,  Grand Master of the Freemasons, Samuel Adams, then governor of the Commonwealth of Massachusetts. The conservators of the Museum of Fine Arts, Boston removed it in January, and recommended us as the ones to create a new plaque to be replaced with the original contents, including Revere's original silver plaque. This reenactment of the original ceremony took place this past June, and was a sight to behold, and included 1300 Masons in full parade, following a team of white horses pulling the cornerstone, and a 21 gun cannon salute. The ceremony included many dignitaries and legislators including speeches by Governor Charlie Baker and Grand Master Harvey Waugh of the Massachusetts Grand Lodge of Freemasons, with several thousand people looking on, including several hundred 5th and 6th Grade students.
Another recent project is a replica of the historic Shawnee Peace Pipe, one of three given by William Henry Harrison at the Greenville treaties of 1814. It now resides in the museum of the Shawnee Prairie Preserve in Greenville, Ohio.  The ceremony took place on the original site of the signing, surrounded by the 250-year-old oak trees which watched over the 1814 event. Many current chiefs and representatives of the various original tribes attended the gathering, which was a truly powerful and meaningful experience. Many stories and gifts were exchanged, and I was so grateful to be included in the solemn but warm gathering after the ceremony.
We were also commissioned by Historic Deerfield to create a silver chocolate pot for the Museum Store collection. It was inspired by the magnificent piece made by Boston master silversmith Zachariah Brigden in 1760. It was quite a challenge to do justice to such a masterpiece, and I am very grateful for the opportunity to make this and other replicas from the great Silver Collection of Historic Deerfield.